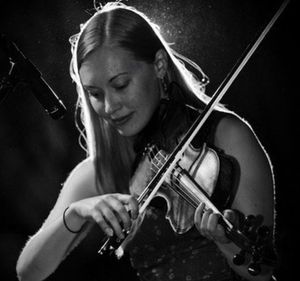 Amanda Kerr grew up within the nurturing musical community of Anchorage, AK. Her fiddling career started with a Cracker Jack box with a ruler taped to it. Somewhere around 10,000 "Huckleberry Stop Stops" later she began traveling to fiddle contests around the country. Her titles have included the Alaska State Fair Grand Champion, Western Open Junior & Grand Champion, and the National Junior Fiddle Champion.
     In 2003, Amanda started teaching music lessons. What started out as teaching a couple of students per week in her parents' living room quickly turned into a full-time teaching studio. After studying music education at the University of Alaska, Amanda has spent the last decade completing certifications for the Suzuki Method including Suzuki Early Childhood Education, Suzuki Principles in Action, Every Child Can, Suzuki In The Schools, Joys of Pre-Twinkle, Music Mind Games, and Violin Units 1-4. 
     In addition to teaching private and group violin lessons, Amanda co-teaches Suzuki Early Childhood Education for ages 0-3, and is the Orchestra director at the Anchorage Waldorf School where she teaches violin, viola, cello, and bass to grades 3-8. 
     Amanda loves performing just as much as teaching. She often plays with High Lonesome Sound and the Anna Lynch Band. You can hear her fiddling on Anna Lynch's self-titled album that was released in 2014. When Amanda is not teaching (or "Momming" her two young children), you can occasionally find her performing around town with her husband, Dan Booth.